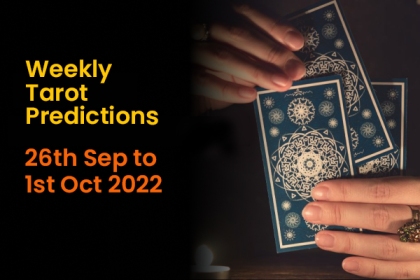 One of the most popular ways to predict the future and curate a horoscope is through tarot card reading. Future predictions by tarot card readings are rooted in spiritual energies, vibrations and frequencies of the Universe, and the special messages that your angel guides have for you. So if you've been searching for a proper tarot reading that will tell you what your week holds, then InstaAstro's Weekly Tarot Predictions for the week of 28th September to 1st October, curated by Tarot Swati, can give you the guidance you seek!
Weekly Tarot Predictions
Are you looking for your weekly tarot predictions? Your search ends here! Scroll down to your zodiac sign and read what is waiting for you this week!

Tarot Card of the Week: Six of Swords




Element: Fire




Sun Sign: Aries, Leo, Sagittarius
This week, you should let go of all unfavourable situations and stray away from negativities. These circumstances will stress you out and make you feel unmotivated. Also, you'll be feeling pretty mentally tired. Therefore, it is advisable to be cautious while making significant decisions as you might have to face the reality of the people around you. Moreover, these particular people have an essential role in your life, so you must be extra careful while hearing their input in matters of your personal and professional life.
Also Read: Similarities Between Tarot And Numerology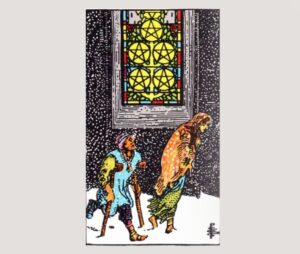 Tarot Card of the Week: Five of Pentacles




Element: Earth




Sun Sign: Taurus, Virgo, Capricorn
Per your weekly tarot predictions, it would be best for you to learn how to let go of things which don't serve their purpose anymore and find better things to hold on to. The energies of the Universe urge you to keep calm and focus on yourself. In terms of your health, it is vital for you not to ignore any minor ailments as they might lead to more significant problems in the future. Also, if you have been planning to change your job, you might have to wait a little while. Let this week pass, and then analyse the situation to decide what's best for you.

Tarot Card of the Week: Ace of Swords




Element: Air




Sun Sign: Gemini, Libra, Aquarius
As September wraps up, this week will bring you many new beginnings and opportunities. If you have been struggling with some past projects, this week will give you the chance to get them to completion and reach one step closer to the life of your dreams. Moreover, you can expect a surprising appraisal and appreciation at your workplace. Besides this, your relationship problems will cease to exist, and happier times will blossom again! Finally, if you have been suffering from any prolonged diseases, then you may come across an esteemed medical professional who might be able to relieve you of your illness.

Tarot Card of the Week: Six of Pentacles




Element: Water




Sun Sign: Cancer, Scorpio, Pisces
According to your weekly tarot predictions, if you have been facing any challenge or obstacle on your professional front, then someone from your close circle of loved ones will step up and help you alleviate these adverse aspects. You might see that this person is helping you make necessary changes in your business or job. Also, there are some substantial chances for you to get an appraisal by the end of this week. So, don't lose hope and keep up the excellent work!
For more tarot predictions like these, go to our 'Talk to Astrologer' page and consult experienced tarot readers and astrologers for the solutions to all your problems!
Also Read: Love Tarot Spreads For Singles